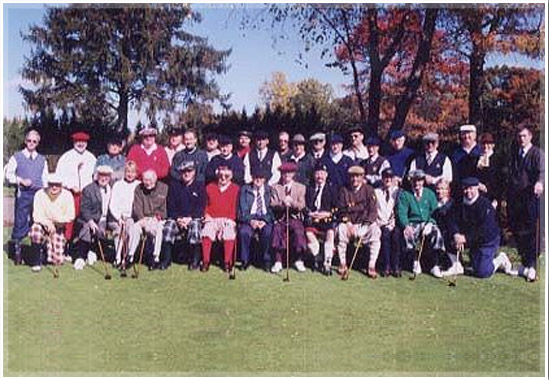 Every year there are a number of tournaments where everyone plays golf as it was played a hundred years ago. The players wear period costumes and use antique golf clubs and balls. It is a thrilling experience to play golf as our forefathers did years ago.
We can handle all the details for such tournaments; providing a speaker, help set up the course, assist in obtaining costumes and provide antique play clubs either for sale or rent. Any size tournament is no problem.
PERFECT FOR:
Corporate outings; Provides a fun filled golf tournament that is unique and different.
Seventy-five to one hundred year old golf courses; allows members to experience golf using "Hickories" as did the founders of their club.
Provides unique fun for any tournament
Provenance and Certificate of Authenticity describing each club's particular history, maker and circa is provided with every club purchased. A brief history of golf and instructions for care are also included.

An investment in golf's history
As a wonderful gift for those who are hard to buy for, i.e. bosses, customers, colleagues, etc.
As displays in golf shops, board rooms, and restaurants
As unique trophies
As decorations
As displayed, for example in old canvas golf bags or in shadow-box style racks
Antique Hickory Shaft Wood

$425 $212.50
Antique Hickory Shaft
Iron

$380 $190
Antique Hickory Shaft Putter

$400 $200
Antique Mesh Ball



$100 $50