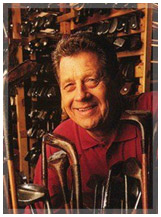 FINE COLLECTABLE WOODEN SHAFTED GOLF CLUBS Our catalog features clubs and balls made prior to 1930. Each club is of museum quality. Any restoration required was done by our professional staff, using only original methods and materials whenever possible.
Provenance and Certificate of Authenticity, describing each clubs particular history, maker and circa is provided with every club purchased. A brief history of golf and instructions for care are also included.
We also have many one-of-a-kind clubs, balls and memorabilia items that date back to the 1850's. Items include Long Nose clubs, feathery balls, trophies, medals and many other silver and brass items. This inventory is always changing; please call or email us direct for the latest inventory.


An investment in golf's history
As a wonderful gift for those who are hard to buy for, i.e. bosses, customers, colleagues, etc.
As displays in golf shops, board rooms, and restaurants
As unique trophies
As decorations
As displayed, for example in old canvas golf bags or in shadow-box style racks
Antique Hickory Shaft Wood

$425 $212.50
Antique Hickory Shaft
Iron

$380 $190
Antique Hickory Shaft Putter

$400 $200
Antique Mesh Ball



$100 $50